02 Apr

What Built Your Start-up Will Not Build Your Scale-up (Part 1)

Are you inspired by all the scale up success stories?  

Would you like to be one of them?


Are you exploring the possibility of scaling up your startup?

It's indeed so attractive to think about creating scale up. The rewards are so exhilarating. Imagine, become the next Uber or the next Airbnb. Everywhere you read scaling up your startup is the way to go. According to the Erasmus Center of Entrepreneurship,
The absolute number of scale-ups has again increased; from 2.285 in 2016 to 2.695 in 2017, which is an increase of almost 18 per cent. It is the 3rd consecutive year in which the growth in the number of scale-ups exceeds 15 percent.
Scale-ups have created 46.837 fulltime jobs during the last three years.

To start with let's define what it is.
Scale up is not the same than to grow. Traditional company growth occurs when revenue and cost grow in a similar fashion. In other words to increase your impact you'll need to increase your investments, in people and other resources.
Conversely when you scale up, the revenue grows at a much faster pace than your cost. Your cost remains almost constant. This magic is possible thanks to modern technology: internet. It's exhilarating to live in this historical moment, because the internet is the democratizing element that will allow anyone with talent to scale up genuine solutions to real world problems.
For a startup to be able to scale up, it must have already a proven concept in a small scale. In other words, it must have already enough success stories to build upon. The transition from startup to scale up brings up the wisdom of the good old Joseph A Schumpeter. This Austrian political economist inspired me endlessly in the MBA. He authored the idea of "Creative destruction". This is the fact that when in business we are to innovate, we need to destroy what brought us here.
See how this is expressed in the graph below. The blue line is the initial innovation that at some point reaches maturity. Then the second innovation will start. This is the creative destruction moment. At this point there is a lot of emotion in the management, as uncertainty and attachment are undeniable.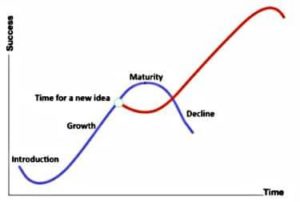 Painful as it sounds, this is what has happened in any industry, in any country throughout the history of capitalism. And this is the name of the game when moving from a startup into a scale up.
So, are you ready to scale up?
About Blanca
Blanca Vergara is an internationally recognized life skills strategist for intelligent women. For more than a decade she empowers superheroines in the making, by finding, activating and amplifying their superpowers.
Read more about Blanca here: