19 Apr

The Benefits of Speed Mentoring

Do you ever wish you could have conversations with experienced business owners who are outside of your immediate circle of relationships to get valuable insights and strategies? 

BASE Conference & Community is paving the way to arrange this opportunity through our Speed Mentoring sessions. During the conference on May 29, we will have mentors ready to exchange quick fire  ideas with conference goers on various topics related to people and resource management, marketing & sales, finance and innovation – the 4 core pillars of BASE. 

How to Successfully Prepare for a Speed Mentoring event? 

To make the most of the opportunity takes some planning and preparation. Here are simple guidelines to consider when attending Speed mentoring sessions: 
Identify core themes, challenges or curiosities you have on the state of your business. Try not to share the full story, remember you are in a time crunch. Rather, try preparing 

 

"How might we" questions (i.e. how might we get funding? How might we expand to new markets? How might we address employee burn out?)
In the event that mentees can choose mentors be sure to check out the profile of mentors before the event. Look at their LinkedIn profile or the bio given by the organization and have a list of mentors that you are interested in talking to. Consider what industry experience or specific skills set are important for you. Match and rank them according to your pressing topics. 
Keep an open mind. The insights, advice and connections you get from the sessions doesn't mean that these are actions to work on. It is up to you to filter through the information that you get from mentors and to move forward with ideas that resonates the most with the state of your business. 
Find other opportunities to connect. Given the limited time, offer other ways to get in touch. Sending a connection request in LinkedIn with a message of what you took out of the session is a sure way of facilitating deeper connections. 
Here are the line up of mentors that we have for BASE Conference 2019: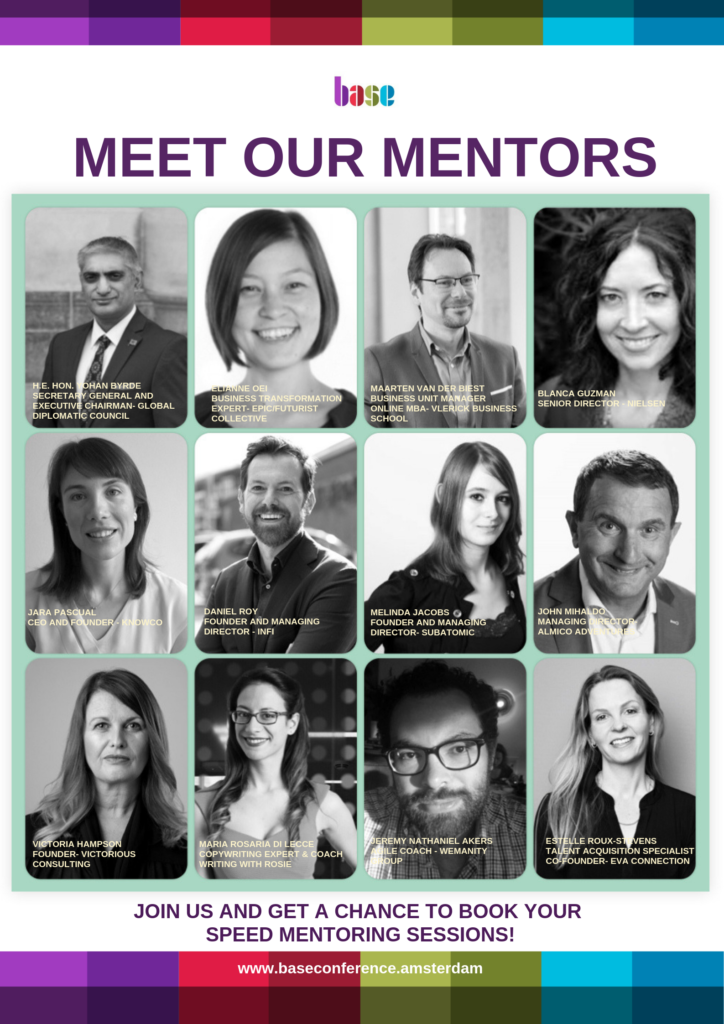 If you are intrigued to know more and experience speed mentoring, join us at BASE Conference 2019.